I know, I know — another blog post about the top 5 places to eat if you're on a budget broke. I'm sorry, but I love to eat! I love to eat good and I love to eat out. However, my bank account is constantly clocking me like, "you know damn well you can't afford overpriced, aiigh' ramen in Bushwick and also do your laundry — know yourself." So, I choose wisely. I choose my priorities, most times. But I love to eat good, I love to eat out and, sometimes, I let that laundry pile up for a month and go get me some damn noodles because I DESERVE IT.
This post is more than just a "top 5", it's for those that don't get home-cooked meals anymore, those that don't get funded by their parents (and/or never did), those that enjoy fine dining just as much as the next Brittany, Susan and Mckenzie. I got you — for the days you know you should be buying yourself some new sponges instead of eating out, but you let the dishes pile up instead. For the days you can't just run home to mama and say, I'm hungry. Below is a list for all of you over drafting your bank accounts, living check to check and "adulting" sloppily AF, because you too can be broke and eat good simultaneously. Trust me, I does this.
MAMOUN'S
St. Marks Pl. is an iconic street for my life, filled with memories of my restricted-youth ass walking aimlessly and digesting the many personalities that lurked around; where I've gotten countless of piercings, a tattoo, random paraphernalia and probably some of the best food in the East Village of NYC including Mamoun's!
Don't shy away if you see "chain," because the franchise aspect and quality of the food are not mutually exclusive. The food is a solid 4 out of 5, boasting sandwiches and plates for vegetarian and meat eaters alike. From the hummus to the A1 falafel (look at the vibrant green color when you crack it open, it says it all) all the way down to the tzatziki sauce I'd drown in, Mamoun's gives you home-made flavor for street-cart prices. You can easily have a full-blown meal for $12 or less. If you're a carni, get the chicken… I promise your taste buds will thank you and me.
Cuisine: Middle Eastern
Address: 30 St. Marks Pl, New York, NY 10003
Price: $
Seating Available: Yes, limited
WESTERN YUNNAN CROSSING BRIDGE NOODLE
SEND N00DZ, as long as they're from this swanky joint that'll make you feel like the tourist. If you're okay with being the only [insert ethnicity] in an establishment, and can maneuver your way without knowing the native language, you'll survive. If you're Chinese and speak the language, even better!
Serving dishes that are, "ready in 10 seconds," Crossing Bridge Noodle's menu revolves around—you guessed it—noodles, eight variations to be exact with more focus on the add-ins. I'm talking slippery, slurpy, noisy noodles that you get to make you feel better about your day. I've gone twice in the summer, trust me — this place is a must all year around. I typically go for the spicy broth, because I like to clear out my nasal passage, but you can always opt for another one and add some red/hot pepper paste they casually have on each table.
Pro tip: When you go, just get whichever broth sounds best, the add-ins that match your diet, then sit back and relax. Your add-ins and noodles will come first, followed by a big crock filled with the piping hot stock of your choice. Your server will do all of the work for you (mixing everything in), you wait 10 seconds, then your meal is ready to be devoured.
You can fill yourself up and leave happy with just the $7.95 entree; however, that fried bread is a must-have appetizer whenever I go — just skip buying iced coffee one day out of the week or something.
Cuisine: Chinese/Noodles
Address: 705 59th St., Brooklyn, NY 11220
Price: $
Seating Available: Yes, limited
LA CARIDAD 78
Look ya'll, I almost didn't want to include this place… I might regret this, but it's my absolute favorite go to spot when I want to feel like a baller, but have finances of the opposite. It's my Upper West Side gem, but now it can be yours too. La Caridad, a place where two of my favorite cuisines collide, Spanish & Asian, is just shy of being a whole-in-the-wall. This place has been around for decades courtesy of the Cantonese, Spanish-speaking owners that came from Cuba. I know, a lot to unpack — just know, this is probably some of the best Comida de Chino you'll find for the pricing.
If you like sesame chicken from your local, hood spot — you probably will never want that again after having it from here. The real, succulent white meat is that of el chicharron de pollo that's simply been doused in the traditional Chinese sauce and topped with sesame seeds. It's insanely perfect, your fav could literally never. There are also, of course, plenty of seafood options for those that don't eat meat. But, honestly, if you don't eat meat just skip this one. I mean, from the god-blessed pork chops to the well-executed pepper steak and, lastly, the mouthwatering pork-fried rice — I only have honest recommendations for my fellow carnis.
I mean, you can always get an order of avocado salad (to die for) and maduros. I might actually be willing to give up two months worth of laundry to have that everyday.
Cuisine: Cuban/Cantoneese
Address: 2199 Broadway, New York, NY 10024
Price: $-$$
Seating Available: Yes
JIMMY'S DINER
Listen Linda, if you're ever just really trying to be bad and bougie for breakfast or brunch with $15 to spare, you need to visit Jimmy's Diner. This might be the priciest place on the list, but for $10 you can undo all of the mistakes you've made after a night at Smooth Tings. Too much Henny? Too much Tequila? Too many regrets one should stomach? Come here and get any of the breakfast bowls, literally. In all honesty, the real reason this place is on the list is because of the $4 tots that are little bites of orgasms in my mouth: it's like mashed potatoes with a tater tot crust, I mean… does that get any better? (Disclaimer: I'm a potato lover of all kinds).
This is one of those (cash only) mom-and-pop shops you go to when you're on road trips, in random country-esque places, hungover after a wild Syracuse party or with your white friends. And, to be honest the neighborhood supports the latter. Don't worry though, the place is pretty tiny so all you truly have time to focus on is eating, not popping off the button on your pants and getting the f out of there without anyone noticing your running mascara and leftover eyeliner (sorry cis-fellas, it aint always about you).
Cuisine: Diner food
Address: 577 Union Ave., Brooklyn, NY 11211
Price: $-$$
Seating Available: Yes, limited
DIM SUM GO GO
I absolutely adore Asian cuisine, so I had to add this budget-friendly establishment. Located in the heart of Chinatown, this place welcomes neanderthals like myself that choose to eat out over getting their much-needed pedicure. Whatever, I can do my own nails, right?
If you're into dumplings of all kind—fried, steamed, soup—and fillings that typically include shrimp, chicken, veggies or pork, this spot is for you. Each item on the menu runs you about $2-4 and getting three options is more than enough to fill you up. It's super veggie-friendly for those interested with an equal amount of options for the carnis. Rather than serving the dim sum from a trolly, you get this paper menu with boxes to check off for the item you want, they're very efficient.
The coolest part about this place is that it used to be owned by both a French-American food writer and Hong Kong chef. The menu is still influenced by their fusion, creating items like the dumpling dough flavored with beet juice and seasoned beef patties on steamed buns with taro fries.
Cuisine: Chinese
Address: 5 East Broadway, New York, NY 10038
Price: $
Seating Available: Yes
Still too broke for this list?
Below is a budget guide that'll help you stay in line, handle your responsibilities and eat whatever you want in a reasonable fashion.
Track, track, track. I keep a Google Drive spreadsheet for my finances and track every purchase I make from paying rent to buying deodorant. Tracking your expenses helps you visibly see what you're spending, what you're spending the most on and where you can cut back. (i.e. I stopped buying coffee and started bringing my own because, hunny… I was spending $3 a day x 5 days a week x 4 weeks a month, making my monthly coffee bill $60. NO BUENO.)
*If manual tracking isn't your thing, get mint.
2. I'm not saying don't spend your hard earned money, just spend it wisely. I know a lot of us enjoy a good night out, which can often involve liquor. Are you buying a bottle of your favorite spirit every weekend? Are you buying over-priced NYC drinks when you go out? STOP. Get a group, chip in on a bottle, but you should not be paying full price for any bottle more than two weekends per month. It's unnecessary, costly and truly wasteful. Also… do you like your liver, or?
3. You don't need those beauty products, ma. Stop following all of these beauty bloggers who get free products to get people like us to buy them at face value. Stay within your budget, you don't need that 24k gold face mask. I promise! Stick to what you need, not what you want — if you have face masks at home, why are you buying new ones? I see you got that BOGO deal on hair products, you better not get anymore. FINISH ALL OF YOUR PRODUCTS BEFORE BUYING NEW ONES, and if they don't work for you get rid of them for a nominal fee.
4. Did you really need to call an Uber for something you could have easily walked? Do you have an unlimited metro card for work and still get cabs? Stop. You're literally wasting your money for absolutely no reason. Walk, use that unlimited metro card, or stay your ass home if you can't afford the above cheap places. Stop taking Ubers to get some vitamin D. Do less.
5. COOK! This should be number one, but, then again, it literally shouldn't even have to be mentioned. Your monthly expenses should include XX dollars that go towards groceries. Your groceries should be a constant bill, and it is just as important as your electric and gas. Cooking for yourself is the most basic form of survival — and you don't have to be a top chef. Google is amazing! Have you seen it? It's this weird web search thingy that literally helps you find tutorials on anything, including how to cook something! Even if you're cooking chicken nuggets and mac n cheese, cook for yourself at home so you get better at it and eat out less.
6. Meal prep and cooking go hand in hand. I stopped buying breakfast/lunch at work and have saved an average of $50 a week by doing so. Cook enough dinner that gives you leftovers for lunch. Make some overnight oats for an easy breakfast grab. Boil some eggs while you're getting ready in the morning. It's really simple, but stay tuned because I might dedicate an entire post to meal prep…
Now, go be broke and prosper! I know you can.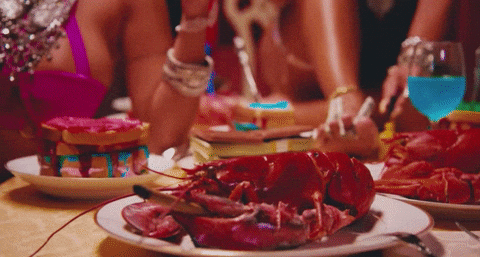 P.S. FOLLOW MY FOODIE INSTA TO FOLLOW MY STRUGGLE JOURNEY